yes, it's true. many know already... but for the rest of you, we are expecting a baby in early july! (the due date it july 1st to be exact... but i am pretty much counting on being late. my mom was late with 3 out of the 4 of her kids... and the one that wasn't late was born on her due date. also the fact that at our appointment little baby blaisdell measured in about 3 days younger than my cycle predicted... but they kept the same due date)... I am about 9 weeks right now.

it's already been a slightly rough road... and the reason that many people already know... i have been extremely sick. it's pretty hard to keep a secret when you are getting sick at work and other public places. i have had a large handful of really good days though. and i have never gone through so much peanut butter, jelly, strawberries, bananas, and real ginger ale in my life. i am hoping and praying that i have the typical... second trimester relief.

we are so happy and excited to have the opportunity to bring life into this world. it's such a huge responsibility and a great miracle. we both feel very blessed and grateful that everything is going as it should and is very healthy up to this point.

here are some pictures Dan insisted on taking. our first appointment, through Dan's eyes:



nervous, excited... waiting for the doctor

anxiously waiting...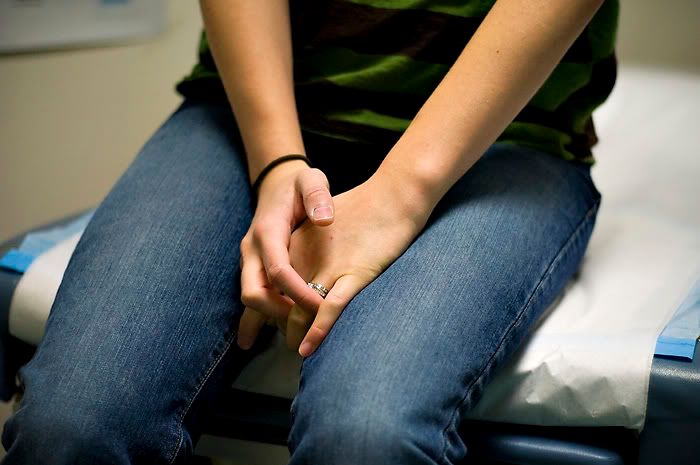 dan: "wait... can you hold that up for a picture???"
dr. iverson: (laughing) "sure!"
can you find the fetus?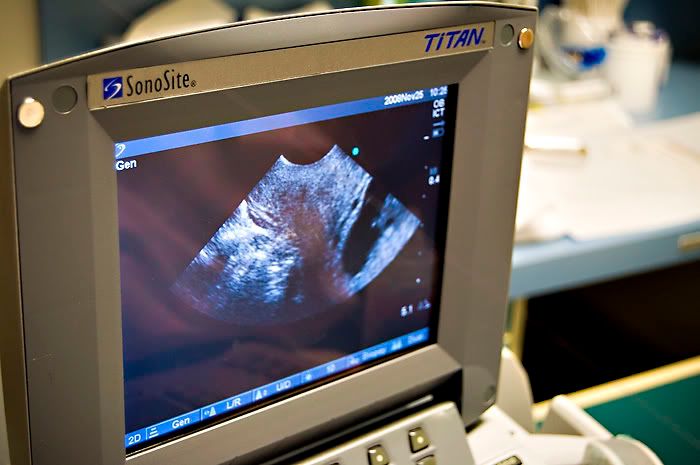 they told us they were going to print out some pictures, but it "didn't work" (i think the nurse messed up)... and this is the only shot Dan took of the ultra sound... when the picture wasn't that great... but I don't blame him... because when the picture was good and we could see the baby fairly well we were enthralled and in awe. our little baby even decided to wave his little flipper arm at us!!! it was amazing... the doctor even seemed pretty excited about it. it was very reassuring to know that there really is a baby inside me... there really is a baby behind the sickness and massive amounts of bloating.
we love you, little baby blaisdell!!!