here in oregon. we got a very small amount of snow last night. every day, arlo and i take lucy on a walk around the block. i snapped some shots of him today all bundled up. even though there isn't much snow, it's pretty cold. the high today was around 29.
arlo has been doing some really cute stuff lately and i have been doing a horrible job at documenting it. whether it be through pictures, journaling, or videos. i feel so bad.
he is getting great at sign language. i think he knows more signs than i do because he watches signing time every so often without me sitting there. a few nights ago while in the bath, he started signing "strawberry" and pointing over at the counter. at first i was really confused as to why he was signing "strawberry". then i realized that there was his tube of toothpaste sitting on the counter with pictures of strawberries on it. i was so impressed. also, one morning i was getting him dressed in a red shirt, and he totally signed "red". he can also sign "blue" and "green", although i am not sure he could recognize those colors yet. some of the other signs he knows now are:
water
milk
more
eat/food
sleep
all done
dog
bird
fish
please
thank you
hurt
grandma
baby
ice cream
cheese
apple
peach
carrot
frog
orange
banana
train
book
airplane
ball
cold
hot
(and probably more that i can't think of)
he is also really into "Cat in the Hat". i read the book so much, that he can fill in some of the words while i read. (i also have it memorized up to page 14) and because of the book, if you ask him what a fish says, he says "no, no!" it is adorable.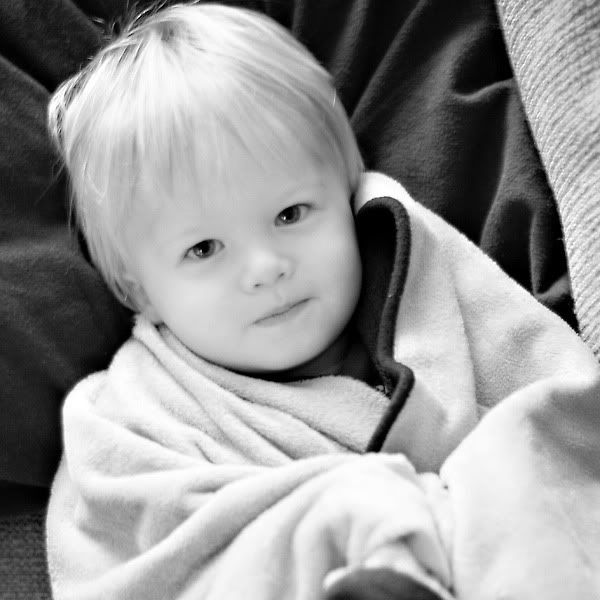 he loves to be wrapped in his blanket and either walk around or sit on the couch. he is getting really cuddly and snuggly. and he is getting much better at going to sleep. he doesn't act like you are torturing him when you put him to bed.
he wants to talk so bad. he is actually getting quite good at trying to repeat words. cutest thing ever.
when he falls down (which is a lot, this kid is crazy active). he tells us that he is falling down. "a dow"
see video below