i was a bad mom and hardly took any pictures this christmas. seriously, what i have on this blog post is pretty much it. i know, sad, right?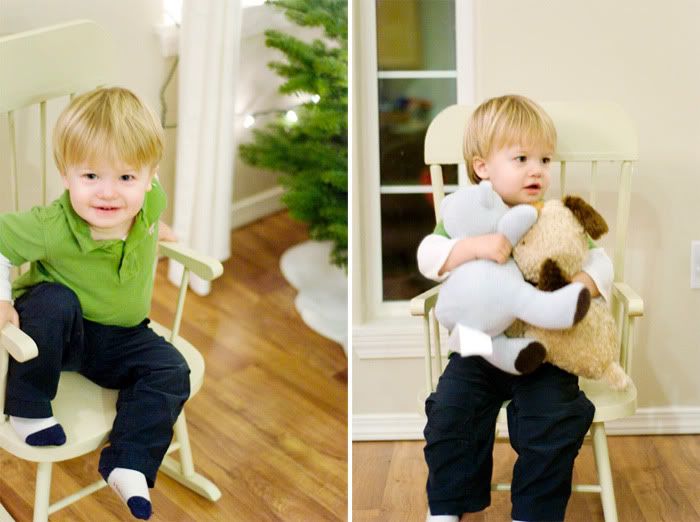 we had a very, very busy christmas! but it was also really fun. all of dan's 10 siblings were in town, including all of their spouses and children (who have them) and Dan's maternal grandmother and her husband. in all, there were 27 people there for christmas in dan's family! my brother, justin was also in town!

christmas eve started with a visit to see santa. i wasn't sure if arlo would be scared of santa or not. turns out that he wasn't!




when santa walked in, arlo got really excited and started waving at him. when it was our turn to see him, we let arlo try and walk up on his own. he only went so far on his own (as seen in the blurry picture), but he let us put him on his lap. he was a little nervous, but didn't cry or seem too scared.

after santa, we went to dan's house for family photos and to hang out for a little while. arlo took a little nap, and then we went to my dad's house to celebrate christmas with him. after that, we all headed over to my aunt's house to celebrate with my dad's extended family, which included 25 people (almost as many as dan's, but definitely less little kids). we were there pretty late for arlo, but he had fun!

christmas morning we opened family presents and stockings at our house with the 3 of us, it was really nice.



at around 9:30am we went to Dan's parents house for more Christmas morning festivities.



We stayed until about 2pm, when we headed to see my mom and her side of the family. After that, around 6pm, we went back to Dan's parents house since some of his siblings were leaving in the morning back across the country and again... stayed out late chatting with family.

it was very, very busy... and tiring. but good to see so much family. we are truly blessed to live so close to home and have both my family and dan's just 10-15 minutes away. this year was also fun to see arlo get excited about christmas. he really did have fun, even though it was very exhausting for him and he was definitely pretty cranky much of the time.

we hope everyone had a very merry christmas!